Copy of Copy of Aorta - Test colorized
The best Aorta POCUS clips. This is free and open access medical education content. Right click to download.
In the center of the screen we see the distal aorta in transverse view. As the probe is moved caudally, the aorta bifurcates into the two common iliac arteries. Deep to the aorta we see the round hyperechoic edge of the vertebral body and to the left of the aorta we see the more compressible inferior vena cava.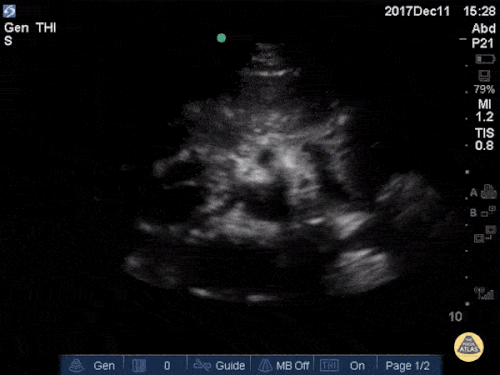 The vertebrae, seen here as the deepest structure as a hyperechoic arch with posterior shadowing (horseshoe sign), is a key anatomic reference when scanning the aorta. The aorta is located immediately anterior to the vertebrae and to the right side on the screen (patient's left). Contrast this with the inferior vena cava, which is seen to the left of the aorta, often in an oval or teardrop shape. In the center of the screen we see the celiac trunk branching off the proximal abdominal aorta. The Y-shaped "seagull sign" is created by the celiac trunk as it branches into the hepatic artery (left) and splenic artery (right). The portal venous confluence is visible between the IVC and the hepatic artery.
In the beginning of this clip we see several major structures in one view. From superficial to deep: liver, pancreas, splenic vein draining into the portal confluence, superior mesenteric artery in transverse (surrounded by a hyperechoic layer of fat creating the "mantle clock sign"), IVC with the left renal vein branching off, and the abdominal aorta. A vertebral body is visible at the bottom of the screen. As the probe is moved caudally, most of these vessels move out of plane and we are left following the course of the IVC and aorta inferiorly.
Orange: Yellow: Liver, Light blue: Pancreas, Aqua: splenic vein/portal confluence, Blue: IVC with splenic vein, Purple: SMA, Red: Aorta, Orange: Spine
Good Seagull Sign
Orange: Spine, Red: Aorta, Blue: IVC, Green: Portal venous confluence, Pink: "Seagull sign" aka celiac trunk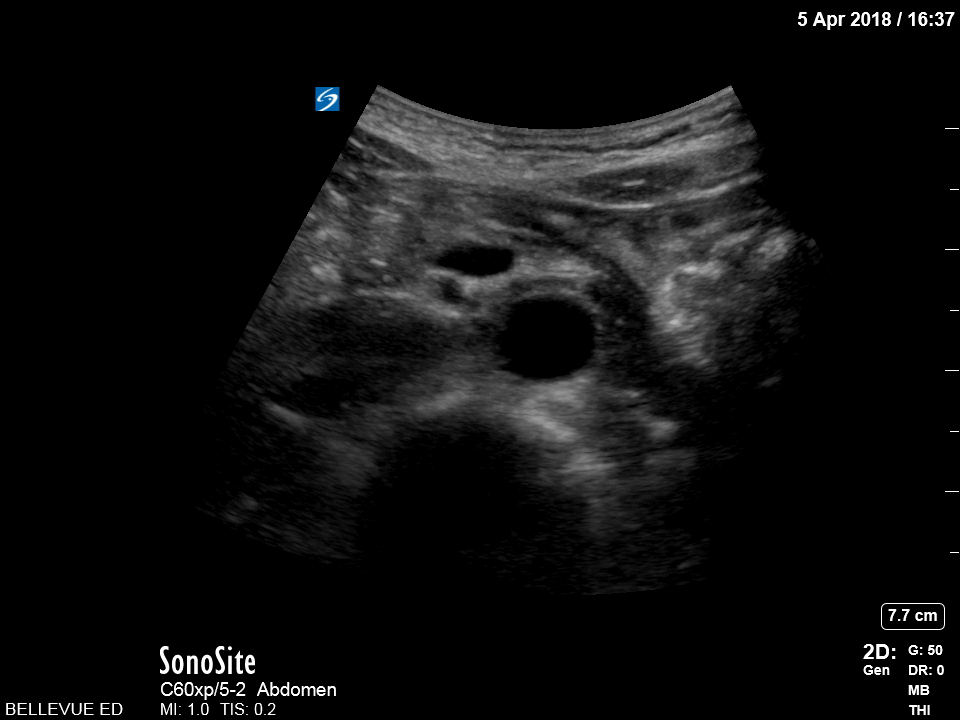 Distal Aorta
Orange: Spine, Red: Aorta and Iliacs, Blue: IVC, Green: Portal venous confluence, Pink: "Seagull sign" aka celiac trunk